Sorry for the long blog hiatus.
Here is my first question and answer session on photography! This was a lot of fun so f you have a question that wasn't answered here, feel free to ask in the comments section and I'll answer it in the next round of Q&As :)
Sara said: How the heck do you get good photos of a newborn? I can't seem to figure out the right angles or lighting, etc. Obviously I don't have quality camera equipment, but I thought maybe you'd have some little tips?
While good equipment definitely makes a difference on many levels, there are still some great ways to get good looking photos of newborns on a point and shoot camera. First, LIGHT. Natural daylight is always the most flattering. When indoors, position the baby where you have lots of windows. Turn off your flash. On point and shoots, they are usually on automatic flash and will often fire when they don't need to. Turn it off to get a more natural looking photo. Next, play with the settings on your camera. Auto can only do so much. Switch it to the 'kids and pets' setting, where your shutter speed will be increased so you don't get any blur. If you have ample natural light, the faster shutter speed should work wonders.
For those that want to get brave with their P&S camera, switch to aperture priority mode (usually A mode) or even full manual mode and lower your aperture as low as it will go. That will help to give you a nice background blur on close ups. For good ideas on angles, posing, etc, just check out your fav photographer blogs and see what they are doing. Other blogs can be a great source of inspiration! When all else fails, play with the editing software your camera or computer came with. They will usually have an auto adjust setting that can brighten your colors. Also, adding a vignette is a nice effect to highlight your subject.
D said: I like the effect where the edges of the photo are darkened to help the subject of the photo pop out a little more (like the two shots of the Hill Family in front of that garage door). I assume that you do that in photoshop after the photo is taken, and you possible enhance the colours as well.

I wonder, how much of that effect comes from the original camera settings, and how much you are getting from retouching? Can you post up a "before and after" of a retouch job and an overview of the steps you took?

I have come up with my own methods, but I am no expert and I really like the results you get.
Yes, the effect where the edges of a photo are darkened is called applying a vignette. I do that in post processing once I'm sitting on my computer and editing photos. Sometimes I do this in Adobe Lightroom with a preset or it can also be done in photoshop. If you have a mac, iphoto has a good vignette setting. Most basic editing software has that option. I often apply the vignette more than once to make a photo extra moody or to really highlight the subject. If you do have photoshop CS or elements, I did a quick google search and found a bunch of free vignette actions you can download for free
here
.
Ok, so before I show you a before and after, let me explain that I am a huge (photoshop) action junkie. I have purchased more than I'd like to admit and they save me enormous amounts of time as compared to how long it would take me to manually do all of those steps in photoshop. I have a good 'feel' for the actions in my collection so I can go to them, depending on the look I'm trying to achieve with my finished image.
Here are some before and afters of a recent 9 month old mini session I did to show you exactly how I edited the image. This is traight out of my camera with no editing.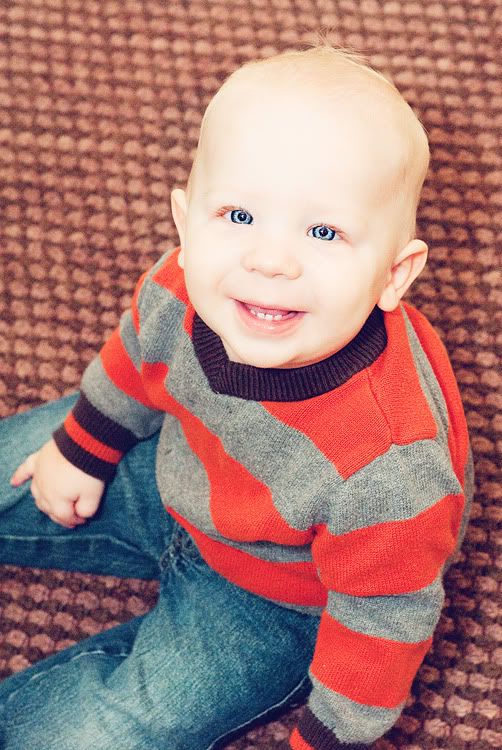 This is what I did to this photo, step by step.
1) Berry pop (from LilyBlue actions). Skin tone brushed back at 30% opacity
2) Honey (from LilyBlue actions). Brightness layer turned off
3) Twinkle Eyes (from Leah Profancik's workflow actions). Applied to the eyes at 100% opacity. Adjusted twinkle layer at 30% opacity
4) Edge of a star (from Jesh de Rox Colorshift actions) Applied to the eyes only
5) Web size (from Leah Profancik's urban rock actions) resized to 750X500 and sharpened for web
Time from start to finish, 3 minutes.
Another before. Straight out of camera.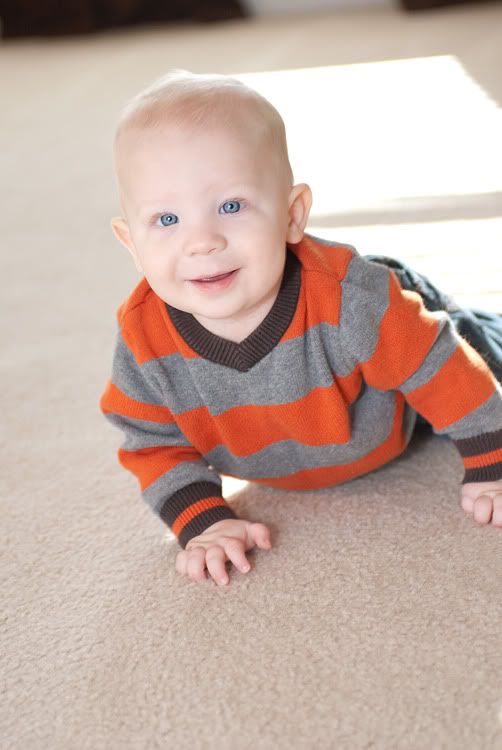 Here's the after:
Step by Step:
1) Crop to 5X7 ratio (too much foreground threw off the balance of the photo)
2) Good Morning (from Jesh de Rox Colorshift actions). Sharpens and gives it that nice 'white light'. Turned off lighten layer
3) Sage (from LilyBlue actions). All layers turned OFF except the 'pop' layer, turned down to 33% opacity.
4) Edge of a star (from Jesh de Rox Colorshift actions). Applied to eyes only.
5) Web size (from Leah Profancik's urban rock actions) resized to 750X500 and sharpened for web
Time from start to finish, 2 minutes.
Brittany said: I like D's question. Before and afters are always fun to see and a learning exprience. I don't have photoshop right now and I'm intrigued by the whole thing with the "actions" and I would love to be able to use them. I've seen before and afters with them, but I kind of don't get it. Do you just push a button and the whole picture changes? Also you do a great job with making the eyes stand out, do you have tips for that? I love your mad skills. You know you have them. When I thought you were coming out here I was going to hire you to do family photos for me. wah. xox B
So actions are one of my favorite things about post processing and editing an image. (Lightroom presets are my No. 1, but that's for another discussion). They make my job SO much easier, because instead of doing tedious layer masks and repetitious tasks on photoshop over and over, it does it all for me, in the blink of an eye. As you can see from my before and afters, I don't just use one action per photo, I often use multiple actions, so if I were to do all of those tasks on photoshop by hand, one photo could easily take 20 minutes to edit, as opposed to the 2 minutes this one above took. To utilize actions, you do have to have Photoshop Elements or a version of CS. But if you do, there are a bunch of FREE actions to use so you can get a feel for them before picking and choosing any others you might want to purchase. Here are some of my fav free action sites.
ATN Central
The Pioneer Woman
So to answer your question, YES. You do just push a button and voila! It is rare, however, that I don't tweak the layers or adjust opacity after using an action.
EYES! Ok, I use actions to make the eyes pop out as well. My favorite actions for those are Leah Profancik's Twinkle Eyes action and Totally Rad Action's Pro Retouch. If you have a portait closeup of someone, after adjusting the color of the eyes, I love to finish up with Jesh de Rox's Edge of a Star, which is a 'pinpoint' sharpen. I just run that and use a brush to go over the eyes and BAM! They stand out even more than before and become the focal point of your portrait. I've never tried to adjust the eyes without actions, so I can't run you through a way without photoshop. Sorry! You'd be amazed, tho, at the photoshop-esque effects you can achieve through just your basic editing software that your camera or computer came with.
One of my favorites, pre photoshop era, was called ACDSee.